So here is another competition I'm joining which is held by
LocalBrand.co.id
. We have to make a "Pattern Look" and post it on our blog and Instagram. If you follow my
Instagram
and
Twitter
account you might already know that I've been in Bontang (East Kalimantan) lately with my family for almost a week. My cousin was having her sweet 17th birthday so I came all the way there with my mom and grandma to celebrate it with them. Well,let's just say I'm kinda having a vacation after all those hectic thesis thingy over :p And since I didn't bring a lot of clothes all I can wear is just what I had in my suitcase -___-
But thank God my grandma brought her wondrous pencil skirt! It's velvet and it's black. Just perfect for the floral top and the b&w patterned blazer I brought. I decided to keep it simple by wearing black and white so that I can show the firmness of the look (in the vintage way of course :B) and the clashed patterns. For the final touch I put this green bag which is currently being my favourite bag.
So what do you think about this outfit? Let me know on the comment below,ok. Thanks for reading and hope you are all having an amazing day!!
If you are a fashion blogger you can also join the competition before 31st of March. Just click

here

!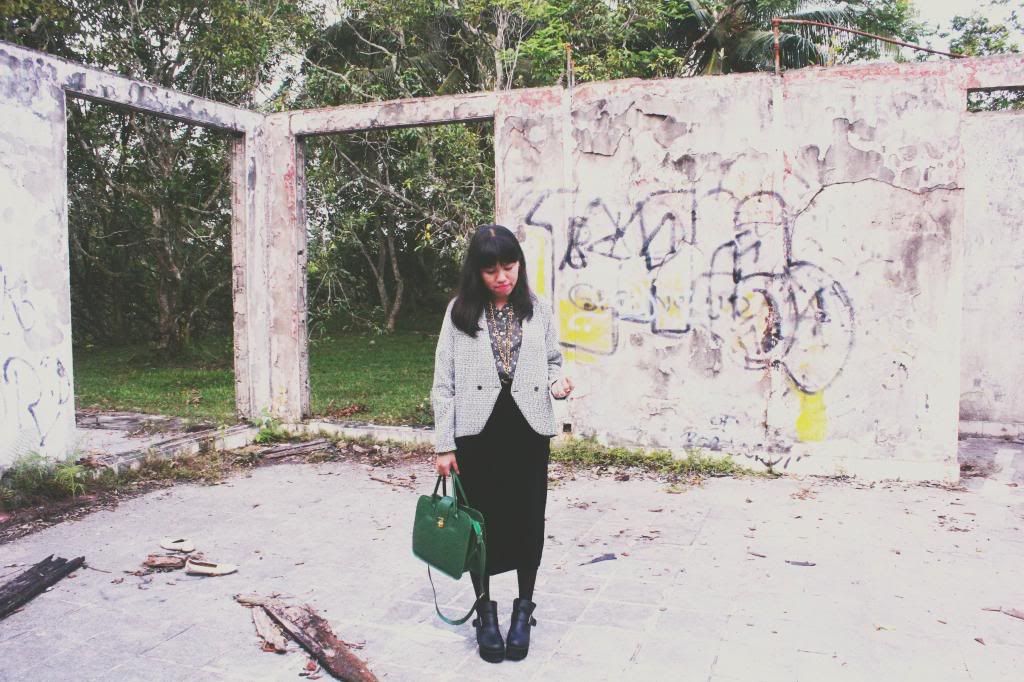 floral top - thrift store | blazer -

PICNIC

| velvet pencil skirt - inheritance from grandma | unbranded necklace | green bag - Petisah | tights -

J.Rep Clothing

| chunky boots -

Dino Direct